Video: Impossible Slopes Illusion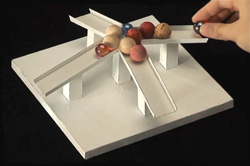 In this video below, miniature balls roll up the slopes just as if they were pulled by a magnet. This behavior seems impossible as it defies gravity, and the magnetic forces can't help, as the balls are made of wood! I can assure you there are no fancy computer graphics. Just cardboard, glue, and some wooden balls. It's a real scene, indeed!
This marvelous "piece of art" was created by Koukichi Sugihara, one of the top 10 finalists of the Best Visual Illusion of the Year Contest in 2010. Hence, you can even grab some building instructions off of his website, and construct your very own Magnet-like Slopes. You'll quickly realize how Koukichi achieved this effect, after seeing the video. What is actually happening is that the orientations of the slopes are perceived oppositely, and hence the descending motion is misinterpreted as ascending motion. What is so remarkable about this illusion, is that it is entirely generated by a three-dimensional solid object and physical motion, instead of a two-dimensional picture.