Video: Final Proof for Wavy Circles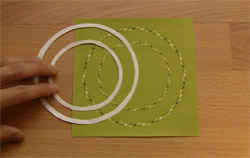 PSSST! I have prepared a big announcement for you in few days! Those of you who can't wait to hear, quickly jump to our Twitter, and be sure to click the follow button. You can get a sneak-peak of our newest project posted there! I'll post some additional screenshots of the project via our twitter account as well. It has something to do with Apirl, the 3rd. Was this hint enough?
Anyway, GreenProductions has created another awesome optical illusion video. I think it's the same guy who presented us with Gray and White illusion from few days back. This time he gives us a final proof for them wavy spirals we posted in two parts. Be sure to check the Spiral tag, to see what I mean. I believe this vid' should close the seemingly bent circles story once and for all.