VIDEO Dots in Motion Illusion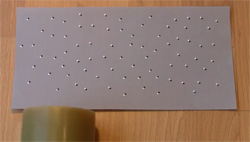 Greenpro is at it again! This time giving us something that can most easily be seen by viewing the following video. As it appears, something strange happens to the scattered dot-pattern if it's accompanied by the simple rolling object. I promise you shall be surprised at how your brain processes these simple (static) dots. Watch the video below to learn more and don't forget to share your thoughts!
As time goes our readership grows, and you might be surprised if I told you how many new faces arrive here each day – Those are the people that have just recently learned of this site. It's normal for them to feel little lost when they arrive here, thus why it's so important for me to have illusion categories, random illusion button and so many underlined (related) illusions in each one of my texts put in center of attention.
I felt this needed to be explained, as I get daily inquires why there are so many references to old stuff – it's easier to discover earlier content this way, that is my humble opinion. BTW, I'd also like to remind all of you using iGoogle on regular basis to add our "Optical Illusion of The Day" gadget if you still haven't …you may also download our regular desktop versions! I think it's the best way to stay updated with new stuff Mighty Optical Illusions comes up with (almost) each day. Now for the promised illusion video: