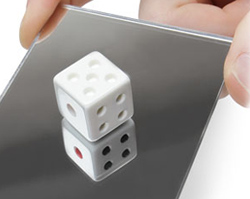 Item now available in webshop
Here's one that kept me occupied for days: browsing the net for more stuff, I stumbled upon a peculiar item that kept my attention. This particular die changes its colors somehow, and the mirror that goes with it, doesn't show what it logically should. I tried, and I tried, but I still can't seem to understand how the darn thing operates!
You can get the scoop of what I'm talking about via images I've included, but the real thing can be seen through the video posted below (inside this article). Tried that? Still no luck? Think it would be easier for me to throw in few bucks, and get my hands on it.
Looking at the video below, do you think you can solve the secret? If you can, please be kind and wait some time before you reveal the answer to others (me included).
Let's repeat the core: it's a simple idea really, just place an ordinary die on top of a mirror. In real life, the die has black and red spots like any good die should, but in the reflection it has no spots. When you turn the die, and move it around – still no spots. It's the damnedest thing and supposedly the effect works with no effort on your part. What's more, when you flip the dice over – suddenly it has no spots in real life, but spots in the mirror-world appear. Crazy I know, but really amazing. Can we determine exactly how the mirror achieves this unusual effect? If you'd like, you can purchase this illusory toy from our partner store!