Two Planes Touching Noses Optical Illusion
Hello everyone and welcome to Wednesday, which is also known as Hump Day. We know that you all are doing well in terms of your work, and you have officially made it to the halfway point of the week. We know you all are getting tired, but you are doing well and we know you can make it to Friday. How many of you have heard a jet going overhead, and you all looked up to see it? Have you ever been to an air show to see more than one jet flying through the air? Take a look at today's optical illusion, and you will be shocked because it looks like these two planes are about to not only touch noses, but also crash into one another! However, believe it or not, the two planes are not hitting, but it sure does look like it right?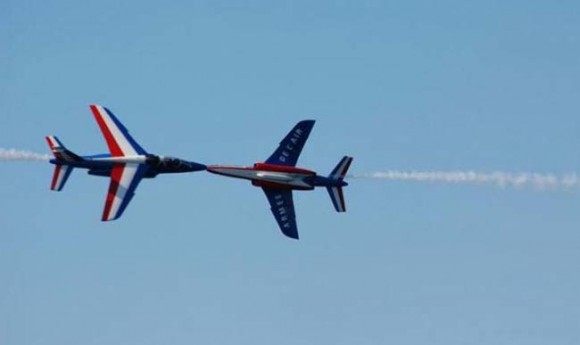 So, ready to see another cool optical illusion involving a hidden person? Check out this wall covered with flowers wallpaper. Do you all see a lady hidden in the wall? Camouflage can be a lot of fun, and this lady hiding in plain sight really shows just how well someone can blend into their surroundings just like a chameleon! Happy Hump Day everyone and have a nice day!