Trippy Mandala Optical Illusion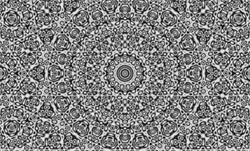 Here's something that started popping out all over the net lately. Below optical illusion animation takes some time to fully load (2MB #gif file), but when it does, all you have to do is blink fast and repeatedly – and when you do, beautiful mandalas shall emerge!
If you never heard of it, Mandala is a Sanskrit word meaning circle. They have a spiritual and ritual significance, representing the universe in Hinduism and Buddhism.