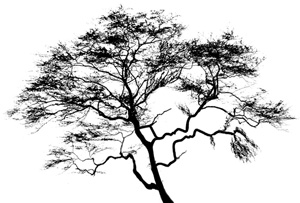 People, words and objects hidden inside tree branches are undoubtedly one of the most popularly exploited illusion-motives on this site (up to date). Still, good illusions are always welcome. It doesn't matter if they closely resemble some we've already seen before!
For example, look what Deviant artist megaossa has managed to come up with! Most interesting part is how I discovered his illusion gallery accidentally, thanks to our Facebook channel.
When I recently started promoting our FB page, I have secretly hoped for a critical mass, where at some point, good illusions and great talent would spontaneously find their way and reach us! Could it be that we have reached that point?
But let us return back on the topic. If I asked you, would you be able to spot all of the illusions in megaossa's portfolio? For example, are you able to see the baby inside the below photo? Do you find this real-life version or the original Baby Tree Illusion better?