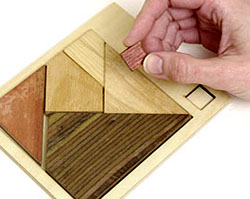 Item now available in webshop
Some of you may remember, how few months ago we've posted a peculiar illusory toy, named Dice Mirror. After seeing such an amount of positive reactions, I decided to share another interesting puzzle which is also available to wider public. This one is called Preposterous Puzzle, and logic behind it, closely relies on optical illusion principles.
Our assignment is relatively simple: what we have to do, is rearrange the wooden blocks, but in such way that one extra slot is retrieved, where additional wooden square can be placed. Sounds somewhat impossible, ayeh? Well, contrary to our belief, the answer exists. I kid you not!
You can get the scoop of what I'm talking about via images included, but the problem can be understood better, if you check one of our previous illusions called Missing Piece.
Let's repeat the core: At first glance you see a square completely filled with wooden pieces. Then you're asked to insert a smaller square into the middle without removing any pieces. Obviously there is just not enough space. Apparently no-one told the makers of this puzzle that it's inherently flawed and unsolvable. But is it? The Preposterous Puzzle can be solved indeed, however refuse to open your mind, and it will silently taunt you forever. Using our cumulative optical illusion experience (check this one), I believe we can solve the puzzle in no-time. If you like this optical illusion toy, it's available for purchase in our partner store!