Skull Chaser Optical Illusion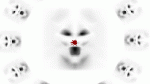 Here's an interesting approach to original Lilac Chaser illusion, invented many years ago… Wait for the animation to load, and concentrate on the center dot for a minute or so. Normally the skulls are disappearing in a clock-wise direction, but if you manage to stay still and concentrated, you will experience an afterimage of the rotating skull in places (where there shouldn't be any). Hope you understood all this babling.
Originally I got this optical illusion from here, and have to admit: I was forced to crop the above and below embedded letters. Sorry dear fellow webmaster, hope you don't take it against me – it's just that the letters were too big and spammy for the illusion to be useful anywhere elsewhere than on its original website.