Sine Line Optical Illusion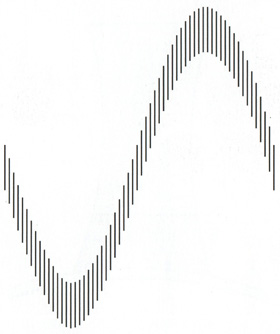 SINCE by now all of you are ware that English isn't my mother language, there are still some minor details I'd like to check. One of the major steps I surpassed recently is learning the difference between it's and its. Yeah, it may sound dumb but this little thing made me uncertain for quite some time. It took years before I finally understood how the hell verb read can be written the same in present and past form, even though in each case it's pronounced differently. I think some of these rules were explained to me by one of my readers. Next on my quest of knowledge is to distinguish the difference between color and colour. Anyone cares to explain? I've seen both of them in use.
Concerning the illusion of the day, I posted it to the left. The line you see fluctuating is composed of many vertical lines. Do some of those vertical lines seem to be unequal in length? The strange case here, is that all of the vertical lines in this example are identical! Strange, ayeh?