Real-life Jesus Afterimage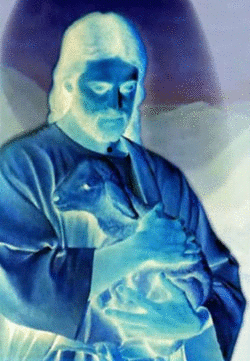 There's an old saying which points that keeping your mouth shut, is better than telling much without saying anything. Would you buy it, if I told you this was the sole reason you were deprived of new optical illusion yesterday? Naaah, didn't think you would ;) The real cause is I'm having some workers over my new place, so have to stay with them at the "construction" site, and give guidelines how I want my things done.
Suzanne sent us an interesting animated gif, which is identical to Babunda's video submission. Check out the animation on your right. Wait for it to cycle back to colorized version, and then stare at the black dot for few seconds. After some time, identical black and white portrait will appear, but if you followed my procedure correctly, you'll be able to see Jesus in full color! Don't take me for granted, but I think #Jesus is one of the most occurring tags in our archives. It would be safe to say we are in need for new category to contain these. If you are into color adapting illusions, and would like to see more where these came from, be sure to check the Afterimage category.