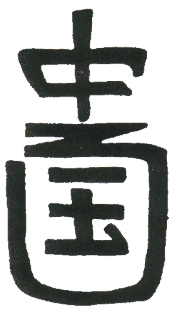 As I have promised yesterday, new day – new optical illusion! Can you read this Chinese sign on your left? Sure you can! A little self-confidence and some flexing of the muscles in your neck, should do the trick. No additional hints further!
I took some time and added "Symbol" tag to some previous optical illusions that in their nature are similar to this one. If you follow the link, you may find few more "Chinese" illusions there. This should help you further identify the optical illusion used in this sample.
If you didn't notice, the title of this post contains "Part II" – You guessed, there is Part I as well.
BTW I've heard some positive suggestions from you guys. For example: how I should disable the picture from showing its filename, or disable the tags below each post (sometimes they spoil the puzzle). As eager I may be to do that, I'm still not sure if this would be possible. Sure, its easy to remove the tags or simply name the image "xgzgf" or something, but all these tags are necessary for SEO (Google search engine). Seems I'll have to find another way of masking those…