Pocket Rocket Optical Illusion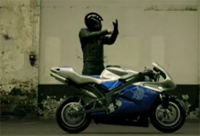 Suzanne pointed me to this video commercial recently, created exclusively for Adelaide's leading motorcycle superstore – Coast Yamaha. The motorcycle featured in video below was loaned from Clive Langley. I have to admit, I never expected such a twist!
I have to give credit to this motorcycle company – They truly understand the power of optical illusions in advertising. In a few years, when I'm done teaching marketing PR's how illusory campaigns easily become viral, and how powerful impact they have on their audience, hopefully I'll manage to shift on to the next level.
Next task: lure them to send in their content to Mighty Optical Illusions website, resulting with more fresh content for our audience (You), and wider reach to their brands. My ultimate goal for near future is to get quality, professionally created illusions, while in the same time being payed for the actual content. Don't get me wrong – I'm not getting payed for this article. But just think about it for a second. Wouldn't it be a "win-win-win" situation (visitors-me-advertisers), if for example Yamaha had previously recognized the size of our audience, and contacted me with offer to publish this video? Perhaps they don't need to, as this kind of stuff is virally posted across the net, free of charge. But maybe, just maybe this will change in the future! Check the Billboards section for example – wouldn't it be logical I got payed for each of those posts?  Unfortunately, I wasn't…
Now admit it, how many of you saw that coming? Big thanks goes to Suzanne Green for sending the clip! "Firstly I have been a fan of Mighty Illusions for a few years – and I love them. I thought of you when I saw this, done by a local ad agency and very impactful. I hope you agree."