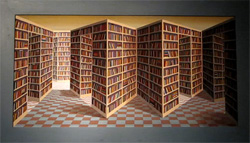 Boy, we had some serious trouble with our server yesterday, but more on that after the illusion (like we agreed here). Today's video gives just a glimpse of Patrick Hughes doozy artwork. You have to see this video to believe it! As the camera pans different angles of the piece, walls seem to fly out, while secret hallways appear. Before the trick behind this painting is reveled, your eyes will perceive the depth, yet your brain will refuse to believe it.
This artwork is called Paradoxymoron, and is currently being shown in the basement of the British Library in London. After you're done with it, I recommend seeing Dick Termes' Termespheres. Both have a pretty similar effect. Even though I posted only a fraction of Patrick Hughes opus, you can find dozen more videos on da internetz.
Concerning the previously mentioned problem, it has something to with our server load. This is why some of you may have noticed our website behaving strangely over the mentioned period. I have experimented with caching to prevent it, but nothing worked. In the end I located the queries responsible – it was the "Top 10 Optical Illusions" box in our sidebar. Each time someone loads this site, gazillion calculations in our database are being made to give you current top optical illusions list. I have disabled live update of the list, but will be back shortly!