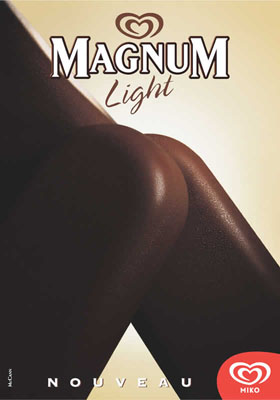 Hehe, probably not as misleading as those Sexy Feet, Paper Breast or The Lamp Optical Illusion were, but still what we have here is one awesome poster created  by Miko for their popular ice cream brand Magnum.
Be honest, what's the first thing you see when you observe the picture on your right? Is it something sexy by any chance?
If you like this kind of illusions, be sure to check the tags I added at the bottom of this post. There are much more similar ones included! Oh, and don't worry – I was careful enough to make them safe for all ages! I remind you of my policy, that there is no explicit material on this site, and there will never be anything I consider unsafe.
Still, you should be aware that us Europeans are a little more liberal when it comes to drawing a line between explicit and safe content, though ;)