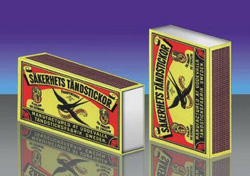 Week ago, Deceptology blog brought another hard-to-believe brain teaser, based on a relatively known type of old-school optical illusion.
What you should do is check out the the two matchboxes on your right. I can't imagine how capable the person trying to persuade you into believing this should be, but what I can tell you is how it would be a perfectly sane claim. I'll take it for granted you trust me on this one, specially if you take into account length and nature of our mutual friendship.
If all this still isn't enough, let me convince you by sharing this strong proof, one you won't be able to ignore. This simple animated .gif below, shows in practice how both of the matchbox sides are actually identical. My intuition tells me our brain prevents us to see them as they are, based on the depth it perceives, just like we explained few days ago in "Sphere Brothers" article.