A little birdie told me how you can't get enough of 3D street art illusions! So here we go again: Warner Bros. has recently commissioned "Planet Streetpainting" art crew to create something that would help generate buzz for their upcoming video game LEGO: Lord of the Rings. It's interesting to hear how all this came to be – After seeing their 3D LEGO Terracotta Army, the interactive division of Warner Bros. contacted Planet Streetpainting to create something completely unique for them. The end-resault was made at this year's Comic-Con in San Diego, where the large 11×13 meter piece was completed on canvas. The original design was conceived by Leon Keer, art director of Planet Streetpainting.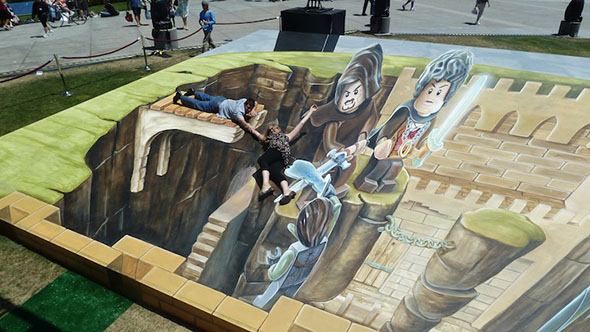 "I made a design with two main characters of the movie (Frodo and Aragorn) but then made them stand out as Lego figures. In the design, you will encounter a Lord of the Rings landscape and several elements, like they would appear in the game." – Leon Keer
"Design was made by me and the creation was done by Planet Streetpainting artists Peter Westerink, Roland Josuttis, Julio Jiménez and me. It was a great experience, although it was tough staying focused with all the crazy costumed people passing by." – Leon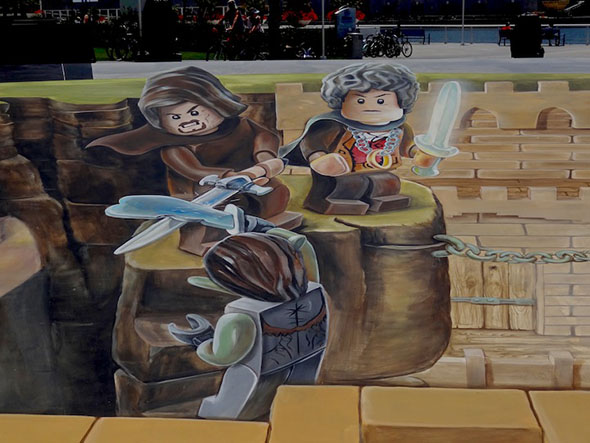 Even more impressive than the finished 3D painting are the making-of shots. Notice how distorted the piece becomes when viewed from different angles.