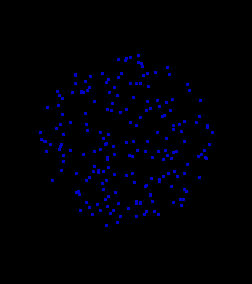 Shown optical illusion just laid there on my hard disk for years. When I opened it today, I couldn't remember why I placed it in my illusions folder in the first place? After some puzzling, finally I managed to see its visual phenomenon!
Ok, here's what I want you to do: concentrate on the animated .gif on your right. You'll quickly realize it represents some sort of see-through sphere, constructed of many dots rotating in one direction. Dots in front make the front face of the sphere, while "background" dots belong to sphere's back. It's logical they rotate in opposite directions. Now try and switch those background dots with front-face ones. Notice any change?
If you manage to visualize this, your able to change the direction in which sphere rotates. With some practice, you'll be able to switch the direction back and forth in very short time fragments. Don't underestimate yourselves – many individuals have difficulty seeing this type of illusions. It's not that they're less worthy, it's just that their brain operates differently… Which reminded me – did you know that more than 1/3 of all people who went to see Avatar in 3D couldn't see the image in 3D?
There are many optical illusions of this type available; one of the more popular being Spinning Dancer Optical Illusion. Your best shot of finding more, would be browsing through our Animations category.