Hurricane Matthew is forging its way toward the southern part of the United States as I type this. It is considered to be a very dangerous storm, and a handful of states in the south, including Florida and Georgia, have already started evacuation procedures in some areas. If you've been following the news or the weather lately, you probably already know about the storm headed inland. You may have already even seen today's optical illusion.
I have to say, it's a pretty discomforting one…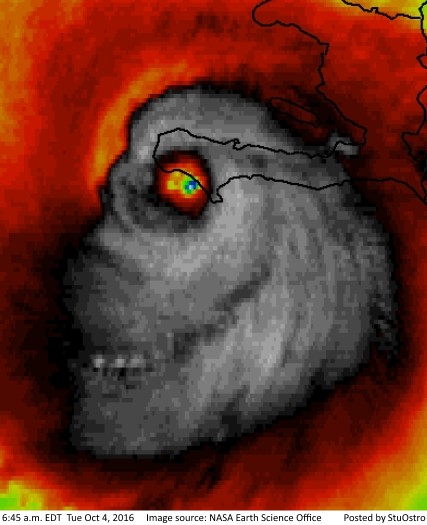 This weather map was seen on a local television news station yesterday morning. Do you see anything a little sinister here? Like, maybe the giant skull that makes up the storm, perhaps?
I hope that this Hurricane Matthew optical illusion isn't foreshadowing of devastating events to come. It's a pretty wicked storm that is considered to be one of the strongest in nearly a decade. It has already killed a handful of people in the Bahamas, and now it's on its way to the states.
My thoughts and prayers are with anyone effected by this storm. Stay safe, and may the gods be with you.
If you liked this Hurricane Matthew skull illusion, be sure to check out this perfect storm illusion next!