The Human Rose Optical Illusion
Happy Tuesday everyone, and hope your day is filled with fun and excitement.  After a long day of working, some people do things after they get home to help them relax. Some people like to read, while others prefer doing something more active like working in their flower gardens. Today's optical illusion is all about flowers, which includes the very popular rose. Do you all see something unusual about this lovely rose?  Have you figured it out by now? This lovely rose is a fine example of beautiful body art, and the artist is truly talented to turn a person into a rose.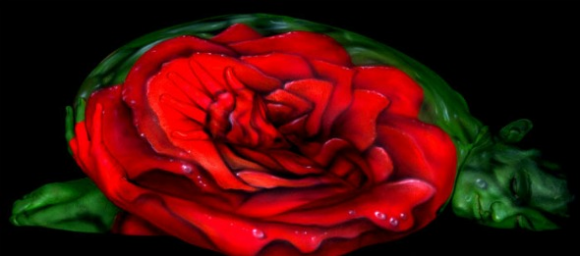 Artists really do capture real life, and they can be responsible for some amazing optical illusions. Take a look at these subway works of art. How amazing are these works of art that people can even interact with them?  Artists are truly talented people, and whether it is body painting or paintings on the walls of the subway, they are letting loose their amazing talent on the world. Everyone needs to support the art community because it makes this world a lot more beautiful.  Hope you all have a great day, and we will speak again tomorrow.