Even if you weren't alive in the time of vintage cars and a simpler life, this Hannibal Courier optical illusion of a 1925 Model T Runabout is simply stunning. For those who pass on by this quaint town in Missouri, you have to stop and take a few moments to appreciate the painting just to determine if your eyes are playing mind tricks on you.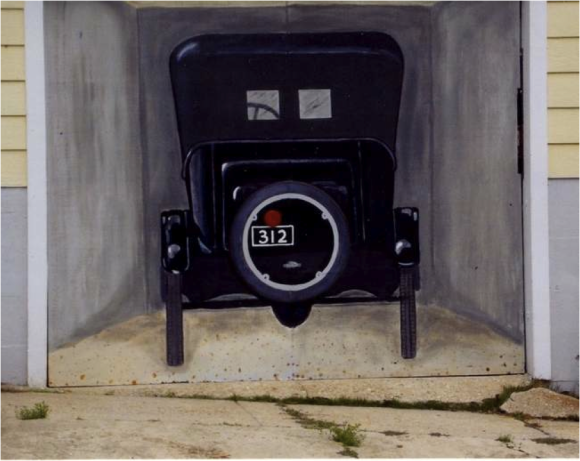 Even though the image looks real and it is actually life-size, it is nothing more than a painting on a garage door.
Painting the car on a neighbor's garage serves multiple purposes. Beyond just enjoying the pure art of painting, it also creates an interest for all of those who wander by. If it causes an individual to smile, street are like this feels as if its been done for everyone. The artist clearly wanted to share the picture with others to spread joy, so maybe others will do the same thing. The goal was to create a prospective that would be proper. Since the garage sits next to the street, this optical illusion is ideal.
Even though the picture is located on a short street, it gets enough exposure to make it worthwhile. The artist decided to paint the Hannibal Courier for free because it was the neighborly thing to do. His neighbor knew he wanted something painted on the garage, so they got together and developed the idea. The 1924 Model T was picked because it coincided with the year the garage and the home were built. Even though the car was quite simple to do, it was the details that took the longest amount of time to develop.