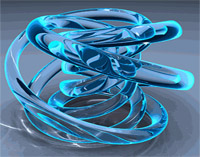 David L'Heureux found this animated Gif online, and decided to share it with us. As the logic of the flowing object below is more than my mind can comprehend, I have to make a reference to the 4D Hypercube we talked about years ago.
Even though the animation below doesn't need to be impossible at all, I decided to share it with you cause of it's awesomeness. I want to say clearly, I'm aware we can't show 4th dimension in our 3-dimensional space, but this is the closest I can explain 4th dimension to you in plain words:
Imagine you lived in a 1-dimensional space, and wanted to steal money from me. You could only move forward and backward on a straight line. Preventing you to steal from my safe would easily be done, just by placing a single dot (barrier) on the line between you and my safe.
In a 2D environment, imagine you lived in old Nintendo's Super Mario world, and could move in all directions, except further and closer from the monitor's surface. What is in front and behind the monitor would be unimaginable to you. Preventing you to steal from my safe would easily be done just by drawing a rectangle around my safe. Diverting over the rectangle would be impossible for you, since you couldn't comprehend the 3rd dimension.

Now the person from 3rd dimension would easily pick up the content from the rectangle, leaving no damage to the rectangle barrier, since he wouldn't even need to touch it. In a 3 dimensional world (our own), I would prevent you from stealing my safe, by placing it in a sealed box. You couldn't open it from each of the 6 sides. But if an intruder came to my house, from a 4th dimension… now this is the tricky part to understand…. he would easily take the content out of the safe, without even needing to open it, nor would he touch it. Thus, resulting in undamaged safe, and missing content inside of it.
If you're interested more in calculating the 4th dimension space, here is a good starting point.