Happy Sunday, and hopefully you all are enjoying your last day of the weekend by doing something really relaxing and fun with the family. Do you all have cute little kids running around in your lives making things fun and interesting?
Today's optical illusion does involve a little girl, but it also looks like she is about to be captured by a giant! Oh no! Who will save the little girl? Where is a super hero when you need one? But seriously, it is a really great optical illusion that is done with forced perspective, and not to mention, the pony tail that the little girl has that is standing straight up!  What do you all think?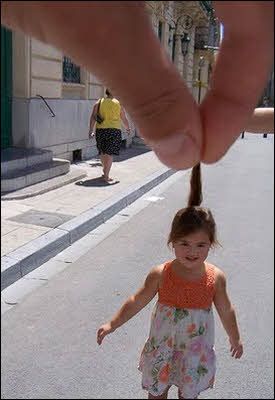 Want to see something that is pretty freaky? Check out these real life characters, and please do not say that you all are not freaked out by what these famous cartoon characters actually look like as fleshed out human beings because we are truly terrified!  We want to hear from you over this! Please feel free to leave us a comment below, and remember, today is Sunday, so try and go out and have some fun! Good luck and have a great weekend!