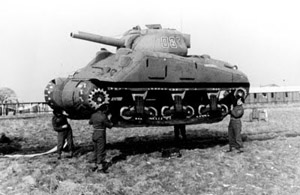 I've stumbled upon an interesting WWII article about "Ghost Army", an invisible army, operating in obscurity, mastering the arts of illusion, deception, and disinformation to defeat the Nazis in World War II. Something very similar you've already seen in Quentin Tarantino's Inglorious Bastardz.
This top-secret unit, so highly classified that its very existence was denied by the Pentagon for 50 years, is finally being not just exposed, but placed in the spotlight by a Michigan Library and an award-winning documentary filmmaker.
If this interests you, I recommend going through the original article, published on Seattle PI yesterday. Anyway, The Ghost Army was an elite unit made up of artists, designers, sound technicians, press agents, makeup artists, and professional photographers. This may sound weird, but if we remember how US forces, Soviet Army and even Nazis had a paranormal unit at their service, then this shouldn't surprise us as much. The unit's mission was to deceive the German Army into believing that the Allies possessed more troops and material than they actually did and, even more heroically, to draw enemy fire on themselves, allowing regular combat units to advance with fewer casualties. They ussed every theatrical tool at their command. A few sound trucks armed with nothing more than loud speakers could "impersonate" a battalion of tanks or an entire infantry division.
Another tool of trickery involved visual deceptions, created using life-size mock-ups of artillery, trucks, planes, tanks, and even buildings. There was a Frenchman coming down the road, and when he saw the scene pictured in above photo, he thought he was hallucinating to see four men pick up a tank. Once again, head over to the original article for more descriptions, and testimonials…