Freemasonry, iPhone Tricks, etc.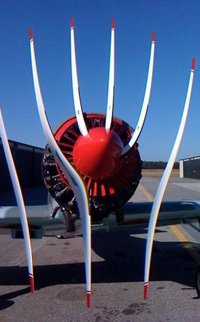 This photo you see on your right, was taken with iPhone. Reportedly, the propeller was spinning at somewhere around 2000 rpm. I'm pretty sure you'll agree with me that the effect is rather weird, since the image came out so seamless. I need your help determining whether this is a natural phenomenon, or simply a result of the low-cost camera hardware and/or software? There must be some dashingly clever individuals out there, who will comment and tell us exactly why this occurs!
On the personal level, I always believed in God. In my opinion, there must be some incredible force that made all the chaos make sense. It's just that I don't care whether it's name is Jesus, Buddha… or Mother Nature. I believe God is too abstract and complex for our primitive minds to understand. This is why I always thought it's meaningless to debate over it in depth. Raised in Christian surrounding, still I never felt connected to church as an establishment. In my belief church is too narrow-minded, thus reduces the meaning of God and putts it closer to the ground just by preaching about it. I won't go into debate what I think of a church as an establishment, but why I'm telling you all this is because I learned that there is a society of men that share the exact same views I have. By now you probably guessed I'm talking about Freemasonry.
So I studied a little, read different books with different approaches to Free Masons – both pro and con. I even read some fiction novels referring to them (Lost Symbol by Dan Brown). Finally, I came to a conclusion it's a positive organization, if you don't count individuals involved just with careerism in mind. If I understood their ways correctly, statistically speaking – it would be much easier to meet higher percentage of profound and educated gentleman in such surrounding than elsewhere. If some of you have deeper knowledge about the organization, feel free to send me an email. I'd love to debate some questions regarding all this, talk about science, religion, philosophy…