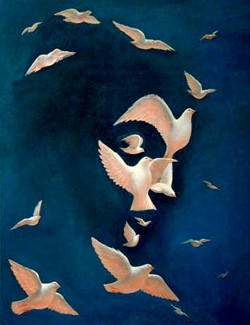 Just in time for Christmas, I've dug up this marvelous painting by world-famous Octavio Ocampo. What at first seems as randomly scattered flock of doves, when observed closer makes a portrait of a beautiful female face.
What you probably knew from before – Dove (domesticated Rock Pigeon, usually white in color) is a traditional Christian symbol of love and peace. According to the biblical story, after the flood, a dove was released by Noah in order to seek for land. When it returned back to Ark carrying an olive leaf in its beak, it then became clear to Noah that somewhere out there, flood has withdrawn and land has emerged!
So, in spirit of Christmas, no matter which faith you belong to (and even if you don't care much about religion), I wish you all a peaceful and merry Christmas! Stay well my friends, and be sure to remember -one person DOES make a difference. Only those "foolish" enough to think they can change the world, end up changing it!