Distorted Shapes Optical Illusion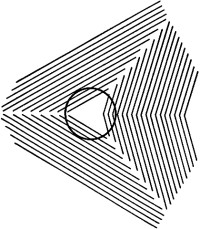 In order to successfully run highly popular blog such as this one, one has to make early peace with the fact he can't make everyone happy at all times. There just isn't that many different old-school illusions to keep your interest (without recycling) – so I have to become creative here and then. Sometimes I have to stretch the definition of "illusion" as far as I can, just to be able to showcase some interesting stuff I'm firm most of you would appreciate.
But today, I crawled the deepest and darkest parts of the web to provide those of you complaining how this or that "isn't illusion!" with something proper. Don't get me wrong – your criticism is highly respected! It's something that keeps me on the right path, so I don't divert too much. Having said that, let's look at the illusions attached – the first one includes a circle that doesn't appear like one, where other three show lines that seem distorted or unparalleled in one way or the other. Which one you did you like the most?