Die Hand Optical Illusion Video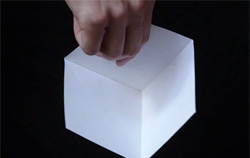 Constantine Konovalov comes from Russia, and creates some very nice optical illusions. I really adore the simplicity of his newest flick. Check out the video below. Anything we haven't seen already? Doubt so, but the video is so attractive, it's hard to stop watching it over and over again.
When you realize the true nature of Constantin's "squarish" object, and replay the video from it's start, can you force yourself not to see it convex again? I really had some problems with this. Be sure to browse our archive when you're done; there are dozen of example photos and videos that work in exactly same manner. With Janek's Nuts and Little Green Dragon being my favorite ones!