This post was guest blogged by Vernon Southward of Macro Photography. If you would like to have your article appear on Mighty Optical Illusions as well, feel free to contact us.
Many people in fashion look for clothing items that will make them look thinner. Example dress that Victoria Beckham wore recently (on some sort of event) has an illusion feeling that makes her look EVEN thinner (as paradox as this sounds). Her dress was designed by a designer called Alexander McQueen, and was originally featured in Daily Mail, a British newspaper agency. This is a cleaver yet simple trick that uses black and white lines to create the illusion, which is effective at giving the wearer the look of having a minuscule waist. It works because of the white silhouette that runs down the middle being very thin and then pops out at the hips and breasts.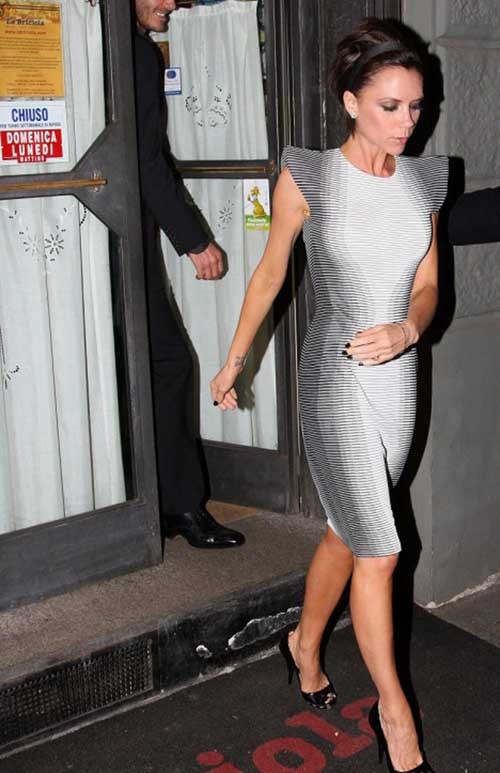 Pattern you see on your left is another great sample that makes your eyes think something is happening when in reality, it isn't. The way the lines/dots are placed on here make it look like two different things are happening. First it looks like the lines are moving in a downward spiral. The illusion also makes it look like that downward spiral goes on forever. These used to be very popular in the past, and could be seen everywhere. Now they are something that is just enjoyed by a choice group of people.
As you know from your experience, optical illusions come in many different shapes, sizes and designs. Another great example of a different type of patterns can be seen in a thumbnail on your right. The vertical lines in this illusion make it look like the horizontal lines are different in sizes, it is also this way because the vertical lines are going towards different directions in each horizontal line. Another thing; it also makes them look like they are wavy. If you look at this example long enough, the lines will appear they are moving. I hope you liked this post. Would appreciate to hear your comments! What other topic would you like to see covered on this site? How about optical illusions used in Hollywood movies? Top audio optical illusions? You tell me…