Dancing Robots Optical Illusion
Today I have an optical illusion that should definitely be able to put a smile on your face. I came across this picture and that's certainly what it did for me, anyways. You see, this illusion is different from a lot of the illusions out there, which is good, because it's nice to always have something new and refreshing to look at once in a while. I don't mean to take anything away from other illusions, but a lot of them can seem typical or put off the same effect. Well, that's not the case with the one that I'm going to post today. This one is called the "Dancing Robots Optical Illusion," and basically all you have to do is look at the image below and it gives off the effect that the robots in the image are actually dancing around with each other. Are you ready to check it out? If so, scroll down to find the image.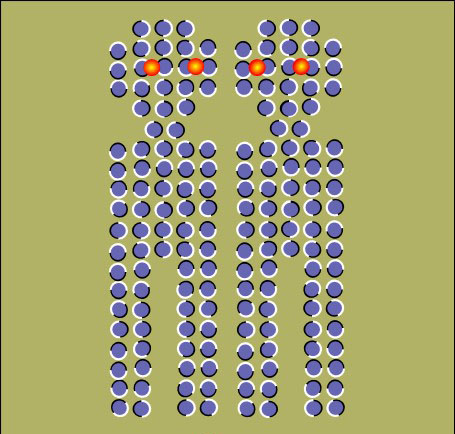 It may take a little bit before you see the two robots begin to dance with each other, so have a little bit of patience while looking at the image and you will definitely begin to see the effect. If you don't see it at first, just try again for a little bit more time and you'll begin to see it. If you liked this optical illusion, you should click on one of the star images below to rate this post, so I know whether or not your enjoyed today's post. If you want to leave more in-depth feedback, you can take advantage of the comments section below. That way, you'll be able to provide me with your precise feedback, which I always enjoy. I love hearing from my reader base.