Somebody on the Mighty Optical Illusions Facebook page mentioned the other day that I seem to have a thing with skulls. (Apparently I've posted a lot of skull optical illusion images in the past.) This is a little true, I do have a small fascination with skulls, but it's a little more than that. For some reason, there's an abundance of skull optical illusion images out there! I guess I'm not the only one with a skull fascination, hmmm?
And since it's Halloween week (yes, Halloween lasts a whole week for me), I have yet another creepy skull optical illusion for you this morning. Actually, it's a skull optical illusion tattoo…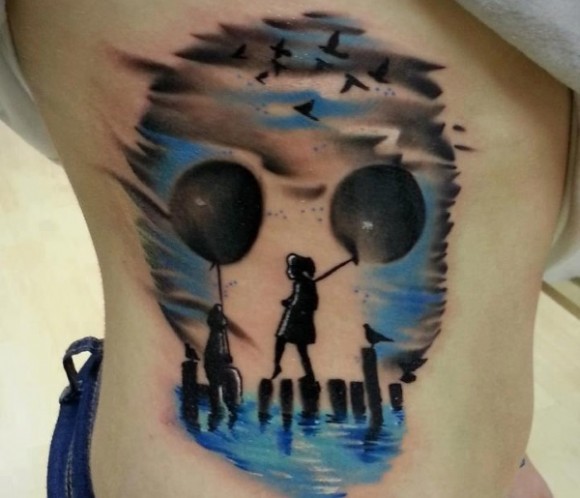 This is such a neat skull illusion, and it works quite well, even as a tattoo. The detail that went into this is simply amazing and the artist did a spectacular job of bringing it to life! It's really two tattoos on one—a tattoo of children playing and holding balloons and a tattoo of a skull.
With my weird skull fascination, this skull optical illusion tattoo would work well for me, don't you think? My first thought would be to put it on the middle of my back, but that space is already taken up by my Phoenix. There's one thing that bothers me though. I feel like like I've seen this skull optical illusion tattoo design before, but can't for the life of me remember where or who the artist is! My mind isn't working like it should today. If you recognize this illusion, drop me a comment below. Oh, and don't forget to rate this skull illusion tattoo too!
If you loved this skull optical illusion tattoo, head over and take a look at 10 more optical illusion tattoos!