Update – I just learned that the artist behind this is Nagfa, you can find another interesting photo on his blog that works in a simmilar fashion.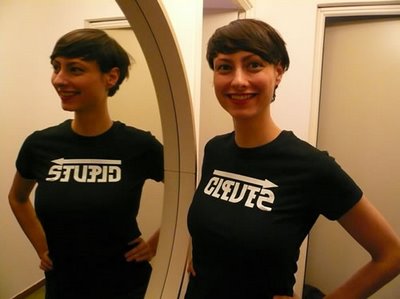 I forgot to post the newest optical illusion yesterday, which I hope you shall forgive me. What I was doing instead, I was playing with some universal widget creating tools. I've added my result at the bottom of my sidebar, so you may check what I managed to compile. Nothing revolutionary really, just something you can easily add to your website, blog, etc. If you wish, you may try it. You can see the separate page here. Now let me dig up something illusionary for today. Ah! Found it. The idea behind today's optical illusion is very similar to the Love & Hate illusion from 2006. The shirt this girl is wearing has the ambigram printed, which can be understood in two different ways. I'm still not exactly sure whether ambigram shows the different meanings, or an anagram does this (one of them shows the same word from each direction). Still, the result is cute. But the question remains: would you ever wear a t-shirt that claims you are stupid?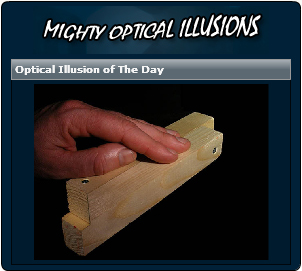 As I explained before, this new widget brings nothing revolutionary to this site. Still, it may serve as a nice addition to your website or blog. It will serve newest optical illusions to your visitors. Even if you have no inspiration on a particular day, and miss posting new content – your readers will remain occupied with some fresh content on our your site. Use it freely as you wish, its free.
I would also like to inform you that I'll be leaving for my summer vacation at the beginning of July. Rest assured though, I will continue to publish new stuff daily, only from different location (same each summer). In times when broadband internet is available in almost each corner of the world, running a website remotely is becoming pretty easy.