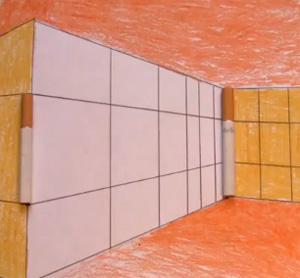 Hardly a week has passed since we last featured one of the Greeenpro's creations, more specifically – Dots in Motion optical illusion video. No matter the short time span, we already received two new excellent illusions from the same author! For example, check these two cigarettes on your right – just by looking at the picture, which one would you say is bigger? Are you sure?
Same goes for the three L-Shaped objects below: there are at least 2 L-Shaped roofs on below buildings that are exact same in size. Which ones are they?
To see the solution, expand the hidden explanatory pictures after the jump, and be sure to see Greenpro's original videos explaining the illusion here. Both illusions are just a variation of something we've already seen at some point before, yet after seeing these many times, amazingly they still work – at least for me they do.