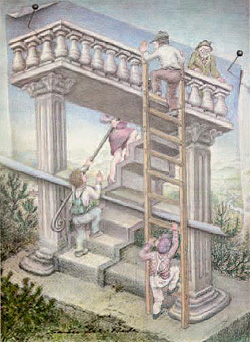 For today I bring you another funny-looking impossible arch painting. By its design, I would tell it was done by Sandro Del Prete, yet I thought we already shared all of his works through this site.
Be sure to notice how part of the painting is a pinned down painting itself, motive Sandro heavily uses in his works. How many optical illusions can you spot in today's post?
Btw, those of you still reading, I would appreciate if you had a second to spare… My mum has tailored a coat which she feels very proud of, and had submitted it for a competition of some kind. She isn't aware I'm writing this, but I would appreciate highly if you could rate her design positively here (click "J'aime" if you like it).