Charlie Brown Just Wants Some…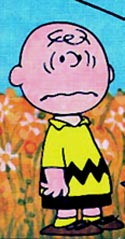 Have you heard about subliminal messages, and methods big companies (or authors) do to insert them into their products? They were quite popular few decades ago, and you can still see number of instances where hidden stuff is implemented in such a way that not everyone will notice. One of the spoofs that references these was made by Brad Pitt in Fight Club blockbuster (when they've inserted a photo of male genitalia as a single frame into family movie screening).
Theory says that people unconsciously notice the subliminal message, which triggers an action desired it would by its author. For example, there is a legend theaters used to insert short frames of food and drinks into their movie rolls, hoping to awaken hunger and thirst among audience, eventually resulting with higher sales of their fast-food products. One such subliminal thing is supposedly hidden in Charlie Brown's portrait. I'm not exactly sure where this came from, or whether it's just a coincidence, but if you spot it – it should perfectly fit with the title of this article. Happy hunting!