Remember that head scratching hidden panda in snowmen illusion? That was a tough one, but I think I found one that might be a little tougher. You have to find the cat hidden in owls in this image…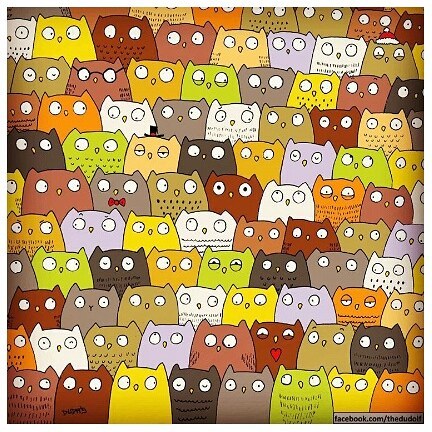 This one's awful tricky, but there is a hidden cat in there among all of those wise old owls. you just know where to look.
This image puzzle was created by a Hugarian cartoonist Gergely Dudas, who also goes by the name Dudolf. Several months back, Dudolf wowed the Internet with his awesome cartoon of a panda hidden in a sea of snowmen.
Let's see if he can do the same with this cat hidden in owls! What did you think of this optical illusion? Be sure to rate it with the stars below before you take off.
Loved looking for the cat hidden in owls here? Head over and see if you can spot the panda in the snowmen!