Today is Tuesday, and everyone may still be recovering from the extra-long weekend for the 4th of July, but things will soon be back to normal.  Today's optical illusion is all about what the human eye can see. Now, take a look at this, and what do you see? Does it not look like the whole side of the building is broken in?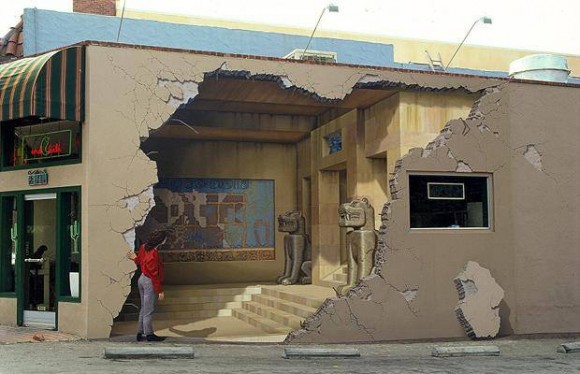 What makes this such an amazing illusion? The woman standing right next to the wall really seems to sell it, right? You never know where hidden tombs are, and this optical illusion looks like there is a hidden world that has now been exposed! The artist who did this wall mural truly has talent! You just never know what can be turned into art.
Even things like food can be made into art, so take a look at this amazing illusion. This illusion is called Foodscapes, and it proves that even food can be used in a way that no one expects! What do you all think? Can you tell that there is food in these illusions? We are really interested in what you guys all think of these amazing Foodscapes, so please feel free to look them all over carefully, and then comment below!