Our friend Kovacs came through with quite a few more pretty cool illusions again. I just checked the Mighty Optical Illusions Facebook page, and saw that he sent some pretty neat illusions. This orange moon illusion, though, really caught my eye!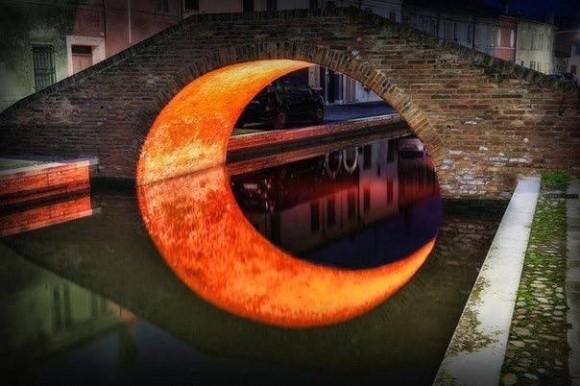 I love this picture! It looks like an orange moon, but it's really just a footbridge and its reflection in the water below. But, the lighting in this image and the reflection give the illusion of a large, bright orange crescent moon.
If all you can see is the bridge, try putting some distance between you and the screen or unfocusing your gaze. The moon illusion is really much easier to see when the image is farther away or just a little out of focus.
Don't forget to rate this illusion with the stars below! Give it five stars if you love it, and one if you hate it. We don't like one-star ratings, though. They make us sad… :-(
If you liked this orange moon illusion, head over and check out this plane flying through the moon!