A shadow sculpture is an art piece that is not seen by viewing the actual materials that create the sculpture, but by viewing the shadows reflected from the sculpture. Some of the most famous artists in this realm are Tim Noble and Sue Webster, who we have featured on the site more than once, and Shigeo Fukuda.
But as advertisers always like to take the work of famous artists and repurpose it to promote their own products, it is not entirely surprising that this technique has since been incorporated into billboards. Of course, that's not to say these ads aren't artistic in themselves. After all, it takes a lot of thought and energy to design something that will be displayed outside, but only be visible at certain times of the day.
As a matter of fact, this particular New Castle billboard was created by another set of artists, Ellis Gallagher and Pablo Power. It is made up of more than 3000 bottle caps and can only be seen at night when the external light shows on it at exactly the right angle.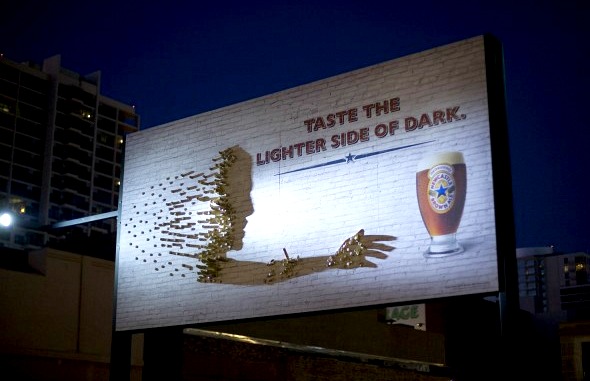 Believe it or not, this billboard is in my town and I still haven't even had a chance to see it. I think it's time I head out that way to enjoy the illusion in person.