Blurred Lighthouse Illusion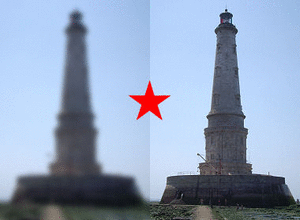 After 9 years of struggle, finally I have graduated my University and obtained master's degree in telecommunications. It feels like someone lifted a giant boulder off of my chest. Yet somehow I already miss this boulder. It made me feel I belong to something, I could've identified myself as being part of a student body… Anyway,  now that you know the big news, let's see what m.ee. Vurdlak has prepared for you today!
Try and focus on the right (sharp) part of the photo on your right. The photo shows something that resembles two lighthouses, but I can assure you it would've worked even if the motive was carrots. After some time the image has changed, and the right lighthouse turns blurry. You'll get the impression the left lighthouse is now sharper than the right one. In reality the new image contains two identically blurred lighthouses. Not sure if I managed to explain this well enough, but I can assure you this illusion deserves some extra attention!