Blood Smear Optical Illusion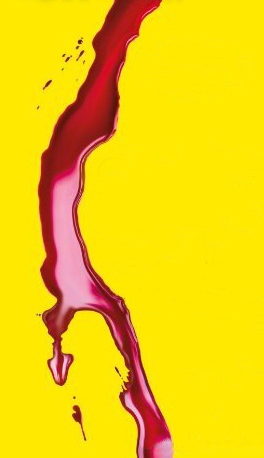 After she saw our latest illusion, Judy decided to share this interesting poster with us. Although she originally showcased this in the comments section of "Rupert Murdoch's True Form" article (using our relatively new image attachments), I believe it deserves its own moment.
The blood smear motif you see on your right was first used as a book cover for Charlaine Harris' "Dead Reckoning" (check here for original book cover). As I haven't read the book myself there isn't much I can tell you about it, except there are vampires in it. But what I can tell you is that there is an interesting optical illusion hidden somewhere inside this poster. Go on – search for it!
Our regular fans will probably spot the hidden illusion almost immediately, while the rest will need to check some of our archives first to understand what they are supposed to be searching for. Perhaps starting with negative spaces illusions might help ;D