Best Illusion You Will See Today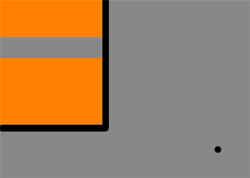 Let me show you something that one of my colleagues has just discovered recently. If you concentrate on the black spot in the continuous animation below, the moving stripe will turn BLUE!
I'm not sure how this illusion works, but I bet it has something to do with our peripheral vision. Some of my friends even reported that they saw the stripe turn GREEN, so it may differ from individual to individual. I think this is the finest illusion you'll come across today. I believe that in it's nature, this illusion works on the same principle Disappearing Dots do. Stay tuned for more!