Impossible objects and structures have always been a fascination of mine. I love seeing real life impossible objects in particular, though. This impossible cube structure is especially cool to me because it's made with regular objects!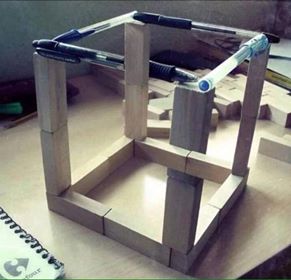 I definitely wonder how this impossible cube was created. I'd love to see pictures of it as different angles. If this isn't Photoshopped, I suspect that it's constructed like Jerry Andrus' impossible box.
Let me know what you think of this illusion in the comments below! If you have any illusions or cool picture that you think would be a good fit for the site, send them into the Mighty Optical Illusion Facebook page!
Don't forget to rate this impossible cube with the stars below!