Anyone on the hunt for some new chairs? How about an optical illusion chair?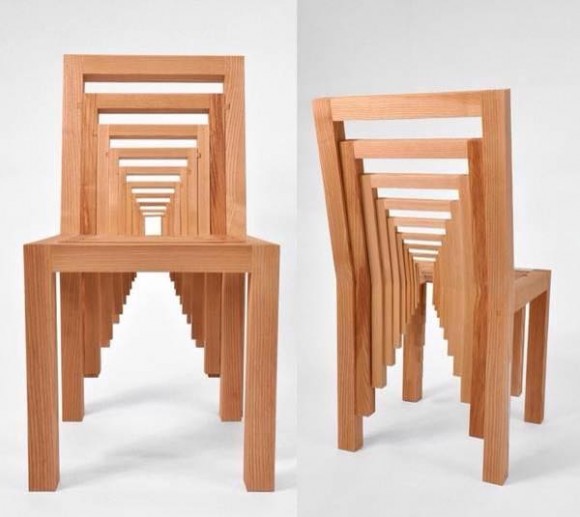 This great optical illusion chair was sent to me via the Mighty Optical Illusions Facebook chair from Ruben, who seems to have a knack for finding nifty illusions. (I just hope he doesn't put me out of a job!)
Looking at this optical illusion chair from the front, it appears that the chair almost goes on forever. It looks a little like a tunnel through the legs and back slats of the chair. Turn the chair around, though, and it's an entirely different story!
We can see that the never ending tunnel optical illusion chair effect is created with cleverly placed pieces of wood on the back. These decorations are decreasing in size, which makes it look like there are several more legs behind it as well as several more chair backs.
If I was looking for all new dining room chairs, I would grab these in a heartbeat! If I could figure out who sold them, that is. Or, I could always build some, but alas! I am no longer hunting for dining room chairs.
What do you think of this chair illusion? Give it a 5 star rating below if you'd have these in your own dining room! I think it would make a nice compliment to this optical illusion chair!