Another Scary Optical Illusion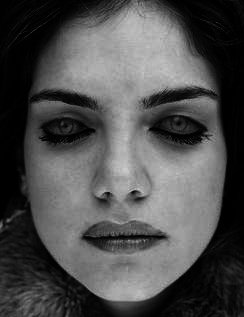 Check this out. What I'm about to show you is an illusion you don't see every day! Observe the woman shown on your right. Would you say her eyes are shut or wide open? Something is painted alright, the only problem is whether she's having fake eyes painted on top of her eyelids, or perhaps only her eyebrows aren't genuine. What do you think?
If you're into scary illusions, there was this one particular picture that resembled today's photo. I think the article went live almost 5 years ago under "Scary Illusion no.5" headline. Be sure to check it out and decide which one you like better. What I do know is that the real answer (for both of these pictures) is trickier than you think!