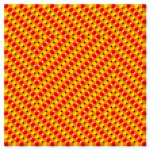 Akiyoshi Kitaoka is a Professor of Psychology at Ritsumeikan University, Japan. He has specialized himself in visual perception, and visual illusions of geometrical shapes, brightness, color, in motion illusions and other visual phenomena. Akiyoshi became most renowned through his Rotating snakes illusion, which many of you have seen already. Btw, Rotating Snakes illusion currently holds 4th position in our "Top 10 Illusions of all time" gallery.
Recently, Akiyoshi updated some of his most popular illusion with additional "Plastic" layer – which resulted in drastic improvement of the optical illusion effect they hold. Check out both of the thumbnails included in this post, and don't forget to open them in full-size to see the illusion better!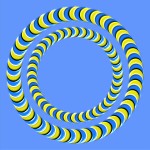 Before I log out, I'd like to thank those of you that helped me with some great tips about NYC. We'll definitely go and see some Broadway musicals, and I'll be sure to get my tickets at TKTZ stands like Crystal Xizzle recommended. Seeing a Naked-Cowboy is a must, and don't worry Maria – all those museums will be checked :) Thehpdrifter don't be surprised if I contact you, to show us some nice Jazz clubs, etc… ;) Any other suggestions? Are there any regular stand-up shows held at the Seinfeld-type-of-bars? Where is the best place to get some NBA or MLB tickets? Looking forward to hear your comments!
P.S. – When you open the gallery of this post, there is another hidden gem inside! Let's see how many of you find it…