Absolutely Terrifying Optical Illusion
This terrifying optical illusion is one that requires a little thought but after a few looks, you're bound to fall in love with this one. Too many people look down on the "dark side" of life and see it as something morbid. That definitely isn't the case. This optical illusion is so much more than. It is an expression of creativity, morbid curiosity (not just something morbid), and free thinking. Take a look at the terrifying optical illusion below and give it a few minutes to process in your brain. Do you see something dark and scary? Perhaps you see something beautiful? Either way, you're going to see more than one thing in this image.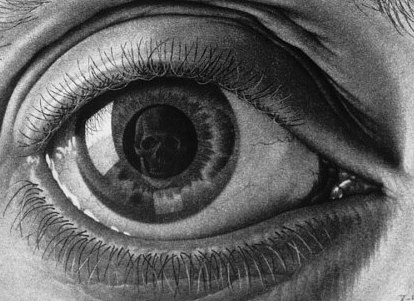 Now, what did you see? Obviously, you see a human eye with a skull in the pupil area. What is the significance of the skull to you? Is this person facing death? Are they on the verge of murder? Is it something else? There's no definitive answer to this question and each of you will surely see something different (while some will see the same thing). This image may inspire you to head on over to Wikipedia to research the most brutal serial killers or it may inspire you to kick your bad habits to the curb. Either way, it is most definitely going to inspire you to do something. Share this terrifying optical illusion with your friends, family, and colleagues. Some of them may find it weird at first but they'll appreciate whatever subliminal messages that they come up with courtesy of this optical illusion.