We've done a great deal of ups and downs over the past few years. In the mean time, this blog has grown rapidly, and became more successful with each day. There were dozen of mentions of this site in the newspapers, TV stations, internet portals, blogs and magazines. Unfortunately, we've started collecting these shouts only recently. So far we caught Mighty Optical Illusions website featured by following top destinations, both online and offline: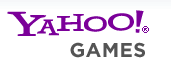 June, 1st 2010 – Yahoo is not just one of the biggest search engines out there, it also produces content and behaves as sort of a news portal. On Monday they introduced new category to their Yahoo Games section, called "Brain Teasers and Optical Illusions". We are proud to announce Yahoo chose us as their main optical illusions provider, and publishes our content regularly! Be sure to head there, and check if you might have missed something!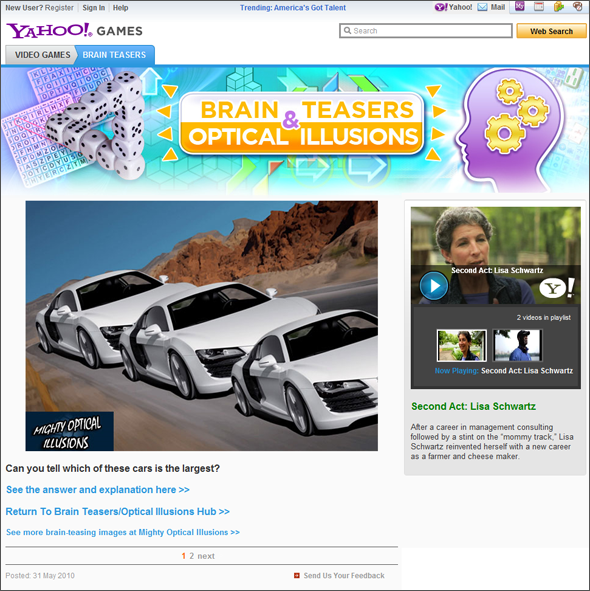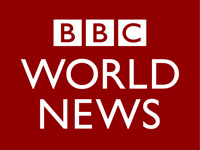 August, 7th 2009 – The news giant BBC weekly produces a TV show called "Click",  which airs in the UK on the channel "BBC News" along with cut-down versions shown on "BBC One" as well. Webscape is a section hosted by Kate Russel near the end of it, where Kate gives her latest selection of the best sites on the World Wide Web. "Mighty Optical Illusions" website was one of her latest picks, and you can watch the full video reportage here. I would be lying, if I said I wasn't flattered by this action from BBC. Apparently the show is aired on "BBC World" as well. Hope you managed to see it!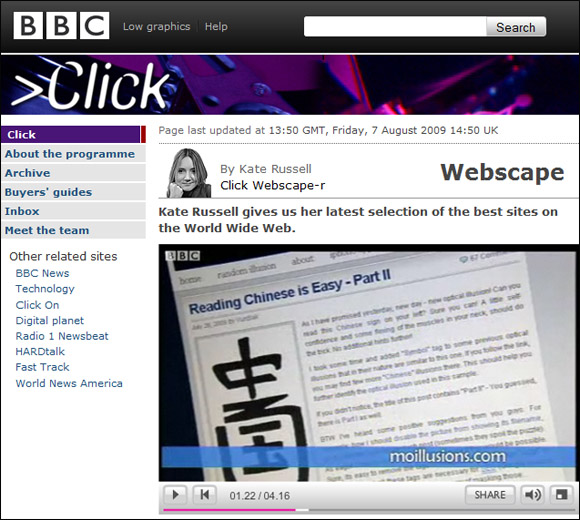 April, 14th 2009 – Web portal Yahoo has suggested Mighty Optical Illusions RSS feed to all of it's users across the globe. My Yahoo is a service similar to iGoogle, where you can add widgets, subscribe to RSS feeds, and add all kinds of quality content. It is used as a starting destination for all Yahoo registered users. The advantage of my Yahoo RSS reader is that it shows image icon from our latest post as well. In a way it works like the iGoogle gadget we published before. Yahoo suggested it's users to subscribe to our RSS feed, using the following words: "A daily trick of the eye can amuse and stimulate your brain". You may see the screenshot below, and open the image on your left to view it in full.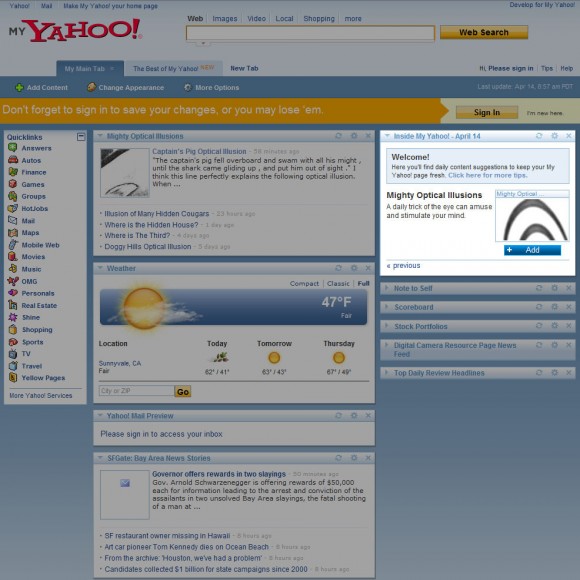 January, 2nd 2009 – Web User Magazine featured "Optical Illusion of The Day" PC widget in it's 204th issue. Web User Magazine is UK's top internet and newspaper destination for: tech news, software-website review, funny websites, broadband price guide, technical help, etc. Our app was featured on page 7 in offline edition of the magazine. As you may see, it was recommended as a Top Widget to all of the Web User readers. If you wish, you can open the image on your left to view it in full size. They used the following description: "Give your eyes a new challenge every day and download this widget. It pulls the latest optical illusion from the excellent Mighty Optical Illusions website. Click the image to read an explanation of the illusion." Below you may see a full scan of the 7th page: