Technology is advancing at an exponential rate, and these days we have the world at our fingertips! Almost anything we need to know or learn is literally only a click or tap away. The potential for learning and expanding our minds is almost limitless. It's crazy! People have all of this information, and…we choose to use it to look at funny cat pictures and other weird things.
Well, I guess a funny cat picture or two really isn't gonna hurt much in the long run. Some of them sure are a hoot, and a marathon meme session can be a nice stress reliever after a long hard day. Even I get sucked in by a funny cat picture from time to time. (Okay, probably more often than I'm willing to admit…)
In fact, I love this funny cat picture that was sent to the Mighty Optical Illusions Facebook page by reader Kovács.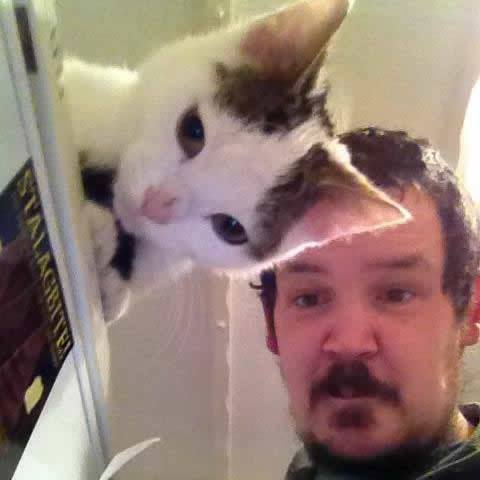 In addition to being a cute and funny cat picture, it's also a pretty neat photo illusion! The cat's ear and head blend in perfectly with the guy's head, and it's a little hard to tell where one ends and the other begins!
Thanks again, Kovács! And if anyone else has any illusions they'd like to submit, you can send them in a message to the Mighty Optical Illusions Facebook page.
If you liked this funny cat picture, head over and check out this cat with a human reflection for another little chuckle!