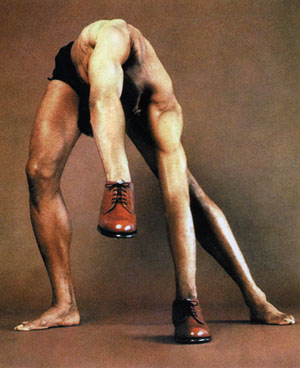 I've just learned about one of a kind "Visual Illusions" exhibition at The Gallery at Walnut Place (413 Walnut St.) in Harrisburg. It will be opened till 31st December, so be sure to visit if you find yourself nearby! Best of all it's free to attend!
The age-old saying "seeing is believing" usually stands, however, this exhibition provides evidence that from all of the senses, sight is most easily deceived. It seems very familiar with what our little website does! Moreover, organizers proudly claim that the exhibit, which exercises the visual and perceptual abilities, will amuse attendees with paradoxical images that are often inconsistent with what perceives to be true. You as a guest will be given the opportunity to decipher numerous optical illusions, including the mystifying four-legged man pictured on your right!
How long did take you to make sense out of this photo? At first I thought it was some sort of abstract sculpture!